INDIANAPOLIS (WGR 550) -- The talk isn't over just yet, but on Saturday, the players finally get on the field for the 2014 NFL Combine.

As the defensive linemen and linebackers come through the media room here at Lucas Oil Stadium, the offensive linemen and tight ends will be put through their workouts. Which of the offensive linemen will show overwhelming athleticism? Can some of the tight ends deliver on the promises they made about their 40 times?

And while that's all going on, the most heavily anticipated press conference of this year's edition of the event will take place at some point today.

Keep checking back throughout the day for the latest news and notes.

4:35 - Day 3 winding down
- Every year the NFL Combine absolutely flies by. Now, the media availability for players has dried up for the day and only one day remains for reporters to speak with the best the draft has to offer. Tomorrow will feature the cornerbacks and safeties at Lucas Oil Stadium, while the quarterbacks, running backs and wide receivers all go through their on-field workouts. It's surely a day worth of paying attention to, with the wide receiver group on the forefront of things to watch from a Bills lens. That's all for Day 3. Talk to you bright and early on Sunday morning.

4:07 - Sell on Cyrus?
- All NFL prospects invited to the combine hope to build buzz about themselves and help inflate their draft stock. That bad part about being poked and prodded is that teams can find out an awful lot of bad things about you too. Alabama offensive tackle Cyrus Kouandjio is the first to see his draft stock take a huge hit based on the medical results.

Bad news for #Bama OT Cyrus Kouandjio. I'm told several teams have failed him on his physical. Arthritic knee from failed surgery. "Ugly."

— Ian Rapoport (@RapSheet) February 22, 2014


4:01 - Mack checks in
- UB's Khalil Mack has been the recipient of some very positive press lately. NFL Network draft analyst Mike Mayock declared he'd take Khalil Mack with the first pick in the draft, over the likes of Jadeveon Clowney, Johnny Manziel, Greg Robinson, Teddy Bridgewater and more. Mack exclaimed at his combine interview that, "Mike Mayock is the man!" He also came across as humble, hungry and hopeful to contribute at the next level. Here's his interview in full:


3:10 - TE Workout results
- North Carolina TE Eric Ebron was hoping to steal the show. He ran well, but it wasn't quite as eye-popping as he had hoped for. Officially, Ebron ran a 4.6 40-yard dash and had hopes of eclipsing former teammate Giovani Bernard's mark of 4.53. Ebron wasn't even the fastest tight end. Those honors belonged to Tennessee State's A.C. Leonard, who started his college career at Florida. He ran a 4.5, making him one of the players to watch as the draft process goes along. Oregon's Colt Lyerla ran a 4.61, but looked incredibly sloppy in the gauntlet drill.

2:14 pm - Michael Sam hits a home run
"I just wish you guys would see me as 'Michael Sam the football player,' instead of 'Michael Sam the gay football player.'"

- Michael Sam soon will be the first openly gay NFL player. And he is the first openly gay player in NFL Combine history. Considering the magnitude of the story, it's no surprise that it was the biggest crowd at a combine press conference in the six years that I've been here. Sam was fantastic in front of the horde. Smiling, making jokes, looking people in the eye, talking with his hands. He's a dynamic person that had over 800 people dead silent hanging on to every word he spoke. Here is his 15 minutes with the media:

His courage and resolve in an industry so resistant to change is undeniable. I look forward to the day when being a gay player at the NFL Combine isn't a story. And I'm looking forward to when this story fades away and Sam can just chase his lifelong dream of being an NFL player.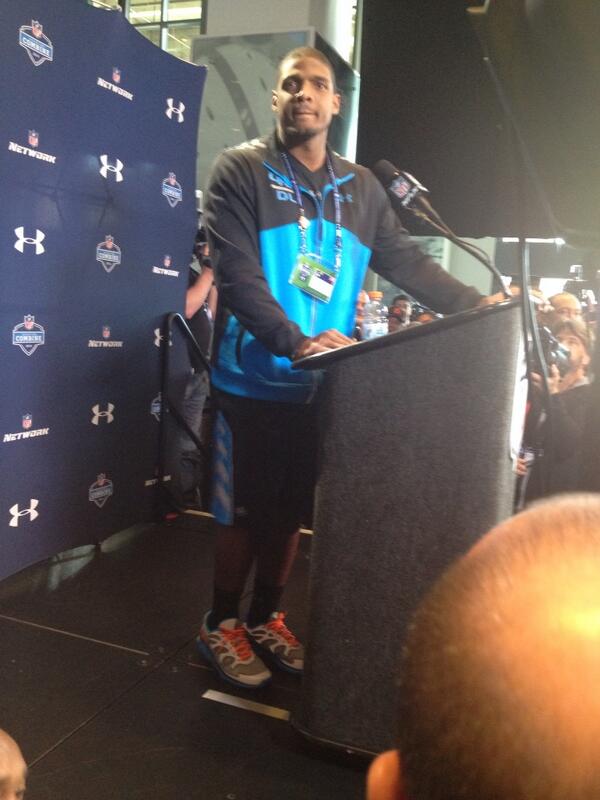 11:39 - Top tackles impressive 10-yd splits
- The more the NFL evolves, the more athletic their offensive linemen are getting. The top three tackles available among popular opinion are Auburn's Greg Robinson, Texas A&M's Jake Matthews and Michigan's Taylor Lewan. In the first part of their workouts, the three showed they're going to go match for match. But like he's been doing since the about midway through regular season, Robinson shows he might have the most upside in the draft at that position.

| Name | 40-yard | 10-yard split |
| --- | --- | --- |
| Greg Robinson | 4.84 | 1.68 |
| Jake Matthews | 4.91 | 1.70 |
| Taylor Lewan | 4.84 | 1.64 |
**Unofficial times

Oh, keep in mind that Greg Robinson is 332 pounds and benched 225 pounds 35 times. He's officially the first workout warrior of the weekend. I think Dan Kadar of Mocking the Draft put it best:
Greg Robinson isn't the new prototype. He's the new unattainable outlier.

— Dan Kadar (@MockingTheDraft) February 22, 2014

11:28 - Urschel's 40 time
- The first of the players with ties to western New York have begun his workout. Canisius High School graduate and Penn State offensive guard John Urschel ran his 40-yard dash and the results weren't great. Urschel ran a 5.28 unofficially, but the good news is he'll likely never have to run 40 yards consecutively. The valor of the 40-yard dash for offensive linemen is measured with the 10-yard split, and there Urschel did very well. Urschel came through with an unofficial time of 1.75 seconds, which shows he's an explosive player off the snap.

10:51 am - Clowney, Mack, Watkins, Evans all on display today
- Besides Michael Sam, Saturday is a bigger day than most can remember for media availability. South Carolina DE Jadeveon Clowney is widely considered to be one of the most naturally gifted players in many years. He, along with UB linebacker Khalil Mack, Clemson wide receiver Sammy Watkins and Texas A&M wide receiver Mike Evans are all expected to speak with the media at some point today.


10:39 am - Pettine addresses the Harbaugh report
- You've got to feel for new Cleveland Browns head coach Mike Pettine. He hasn't even been on the job for over a month and there's already been more scandals in that time than most coaches face in a full year. The night before, ProFootballTalk.com released a report that the Browns were attempting to trade multiple draft picks for head coach Jim Harbaugh. Pettine heard about it for the first time, like most, last night.

"I got a phone call saying that report was about to come out. I shot the messenger a little bit because I said, 'How does that affect my tenure as the head coach?' I think my next sentence had either ... I used the word "flying" followed by something or referenced a part of a rat's body. I think that's noise."

He joked that it was a little bit warmer in Cleveland than Buffalo. Judging by the way the past few weeks have gone, there's no doubt about that.

9:22 am - Bigger than sports
- A story that extends beyond the normal platform that the NFL Combine brings about, Missouri defensive end Michael Sam will be addressing the media at some point.
5:40 A.M Eastern Time starting my day off with drug and medical testing NFL Combine

— Michael Sam (@MikeSamFootball) February 22, 2014
NFL teams are doing and saying all the right things when it comes to Sam, but the real test will be on either May 9 or 10, when picks are flying off the board and then we'll see just how long he stays on the board. Regardless, this is likely to be the biggest press conference we've ever seen at the NFL Combine.