Conventional wisdom says 10 wins will get you into the NFL playoffs. Sure, a team winning ten games and still missing the playoffs has happened a handful of times over the past decade or so. But, generally, ten wins gets you in and even nine will give you a solid chance for a wild card berth.

In fact, last year's Super Bowl champion, the New York Giants, only won nine games in the regular season. That was enough to win the NFC East. From there, they took advantage of their opportunity and won the Super Bowl.
Bills Head Coach Chan Gailey
In the AFC last season, the Broncos won the West at 8-8. The Bengals earned a wild card berth at 9-7.

See the Bills 2012 schedule

So, ten wins it is. That's what will do it for the Bills to finally end their twelve-year playoff drought. How can they do it? Here's an easy-to-follow blueprint for what it will take and how it can reasonably be done:

They need to go 3-3 within their divisional games

This isn't a monumental task. In fact, it should be expected. Whether it's splitting against every team, sweeping the Dolphins and going 1-3 against the Jets and Patriots combined, or any other combination, the Bills just need to get to three wins out of their six games within the AFC East to follow this blueprint. (current win total = 3)

Beat Cleveland, St. Louis, and Indianapolis

The Bills are clearly better than all three. There's no excuse to losing to any of them if they are a true playoff contender. They should sweep this group of teams. And this blueprint calls for it. (current win total = 6)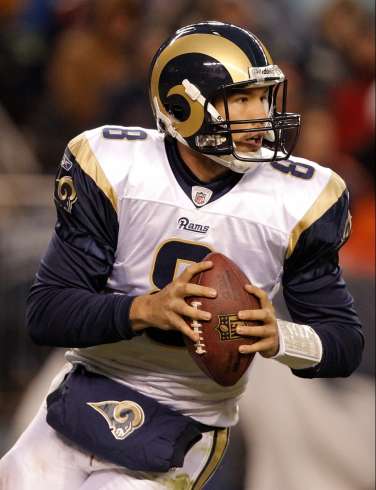 Sam Bradford and the Rams are one
of three teams the Bills should be expected
to beat next season
Win 2 of 3 vs. Kansas City, Tennessee, and Jacksonville

Yes, they can beat all of these teams. All three are at home for the Bills. But as we all know, the NFL is a year-to-year league and any of these three clubs can have a good year, or at least one really good game against the Bills, especially considering the way any of the three can run the football in any given week. On top of that, there are always games teams expect to/should win but get upset. Expect it to happen at least once this year to the Bills in a game they are favored. The Chiefs (7), Jags (5), and Bills (6) were all within one win of each other last year. The Titans won nine games. So, for the purposes of this exercise, and to keep it realistic, I'm just asking the Bills to win two of the three games here. (current win total = 8)

This leaves two wins to get to 10. Remaining games:
@ San Francisco
@ Arizona
@ Houston
vs. Seattle (in Toronto)

All four of these games will be tough. And, yes, I'm including Seattle in this category because it won't be easy. We all know playing in Toronto is not nearly the same as playing at The Ralph for the Bills. Also, although the Seahawks won only seven games last season, they did beat the eventual Super Bowl champion Giants in New Jersey, won at Chicago, and beat the Ravens, too. So, they are no pushover. Winnable for sure. But at this point, I'm calling it a swing game.

The back-to-back west coast games at San Fran and Arizona are tough tasks. They can't be expected to beat the 49ers right now. They can beat the Cardinals, but on the heels of a physical game at San Fran all the way out west right before that, it's a lot easier said than done.

At the Texans is an interesting game because it will mark the return of Mario Williams to Houston to face his old mates. So, we know he'll be ready for that one. But so will the Texans. And let's face it, they were a playoff team last year and that offense is tough to handle.
Mario Williams will face his old teammates in
Houston in a critical game for the Bills next season
So, there it is. My blueprint for the Bills to get to 10 wins. The interesting thing for me is, I don't even think this is too optimistic. I think the way it is laid out above is very realistic, and maybe even (crazy to say), a bit too conservative for this team. The schedule favors a chance to get there. It's do-able. And if it happens, we'll be seeing playoff football again in Western New York. And although I've never considered a career in architecture, I think this is a pretty solid blueprint.

Follow me and comment on this blog post on twitter: @SalSports

--Sal Capaccio