OK, I'll admit it. I'm a Yankees fan, but was rooting for Johan Santana to finish off his no-hitter last Friday night. And when the final out was made, and it erased 51 years of waiting for Mets fans everywhere, I was very happy. Happy for WGR morning show host and Mets fan Howard Simon. Happy for my college roommate Joe, a lifelong fan who now works for the organization. Happy for baseball, its fans, and even sports fans in general. I'm including myself in those last two categories. I was happy for me. I was finally able to see something in sports that was approaching the "will it ever happen in my lifetime?" territory. Check one more item off my Sports Bucket List.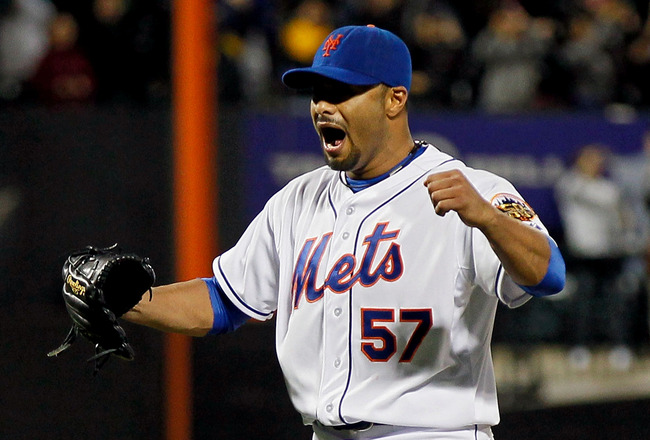 Johan Santana



That got me thinking about other events/accomplishments I'd love to see happen before I leave this earth. Realistic, but obviously not easy accomplishments and feats that either have never happened before or last occurred either before I was born or too young to realize and respect it.

I'm excluding anything dealing with Buffalo sports specifically (such as a Super Bowl or Stanley Cup championship), or any feats involving "my teams" or players who play for them for this list, simply because the list would be far too long and it's too easy to come up with those accomplishments. The list also has nothing to do with just visiting places or meeting people or seeing certain athletes play. That's an entirely different sort of bucket list (maybe even for a future column). It's about actual on-the-field accomplishments and feats throughout sports.

So, here is my Sports Bucket List. Things I'd love to see happen – if only once – before I die (in no particular order):

--A MLB player hit .400
The last time it happened was 1941. Ted Williams hit .406. Since then, there have been a few close calls, but George Brett (.390) couldn't quite get there in 1980 and we'll never know what Tony Gwynn would've done in the final 45 games of a strike-shortened 1994 season when he was hitting .394 when the season was canceled.

--A baseball Triple Crown winner
In the 46 years from 1925-1967 it happened eleven times. In the 44 years since then, it's happened exactly NONE! It happened in back-to-back years in the 1960s. Frank Robinson in '66 and Carl Yastrzemski in '67. There are only a very small number of players even capable of winning all three categories (batting average, RBI, and home runs) in a given year, but with injuries that creep up throughout a 162-game season, pitchers pitching around great hitters, and other factors playing such a role today, it's getting even tougher for someone to do it.





Carl Yastrzemski was the last Triple Crown winner in baseball



--A horse racing Triple Crown winner
Please let this happen this week! We've been here before. Twenty one times before, in fact. And several times recently. 2008, 2004, 2003, 2002, 1999, 1998, and 1997 all saw horses win the Kentucky Derby and the Preakness, only to fall short trying to complete the final jewel in the Belmont (and four of those times the horse going for the triple crown finished 2nd in the Belmont!). I was born the year Secretariat won all three races (1973), and was alive for the only two since (Seattle Slew in '77 and Affirmed in '78), but far too young to have known or cared. Like baseball, there was a good run of Crown winners years ago, but none for a long time since. In horse racing, there were three horses who accomplished the feat in the 1930s, four in the '40s, and the above mentioned three in the '70's. But none in the past 33 years. I'll Have Another could end that drought this weekend if he wins the Belmont Saturday (airing on WGR at 5pm).

Related and interesting fact: The Triple Crown has been won in both baseball and horse racing in the same calendar year once. 1937. Joe "Ducky" Medwick (St. Louis Cardinals) and War Admiral.

--A 16 seed beating a 1-seed in the Men's NCAA basketball tournament.
It's happened once in the women's tourney. 1998. Harvard (16) over Stanford (1). But never in the men's tournament. Six times a #2 has beaten a #15, including twice just this past March. And several 16-seeds have come extremely close to accomplishing the feat. #16s East Tennessee State (vs. Oklahoma) and Princeton (vs. Georgetown) both lost by 1-point in 1989, and then in 1990, 16-seed Murray State took 1-seed Michigan State to overtime. Most recently, in 1996, (1) Purdue beat (16) Western Carolina by 2-points. So it's not only not impossible, I actually expect it to happen at some point soon.

--An undefeated NFL regular season and playoffs
We all know it almost happened when the Patriots were 18-0 in 2007 only to lose to the Giants in Super Bowl XLII. And, yes, I know it's blasphemy to root for the Pats in these parts (and I hate doing it, too). But I was doing just that in 2007 for the same reason I'll root for another team to finish the deed if they ever get that far again. One reason and one reason only all Bills fans should want it to happen. And that's to FINALLY SHUT UP MIAMI DOLPHINS FANS WHO CONSTANTLY REMIND EVERYONE THEY ARE THE ONLY ORGANZATION TO EVER DO IT (17-0 overall in 1972). I lived in Florida for 16 years and probably had to put up with this more often than most reading this, but it's always enough to make me hold out hope another team will do it again some year. The ultimate dream would be the Bills doing it, of course.





The 1972 Dolphins are still the only team to ever go unbeaten throughout an NFL regular and postseason



--Back-to-back no-hitters
It's only happened once. Johnny Vander Meer of the Cincinnati Reds. On June 11 and again on June 15, 1938, Vander Meer threw no-nos in consecutive starts. Since his feat, there have been 168 no-hitters thrown throughout Major League Baseball. None of them has been in the start immediately following a no-hitter by that same pitcher.

Related trivia fact: Vander Meer's 2nd of his rare consecutive no-hitters was against the Brooklyn Dodgers in the first-ever night game at Ebbets Field.

--Chicago Cubs win World Series
OK, this has been a fun column to write. But I think I'm asking just a liiiiiiitle too much now.

Besides your own teams and players winning titles and awards, what sports accomplishments or events are on your Sports Bucket List? Comment below or by letting me know on twitter by following and tweeting me @SalSports

--Sal Capaccio