1992 was a pretty interesting year.

Jack Nicholson told Tom Cruise he couldn't handle the truth.

Batman "Returned" for the FIRST time.

Big butts were totally in because of Sir Mix A-Lot.




Dominik Hasek made his first start in a Sabres uniform.

And twenty years ago this week, on September 13, 1992, the Bills played in one of the wildest NFL games ever. A game that still sits alone in history. They beat the San Francisco 49ers, 34-31.

And neither team punted!

Still the only game in NFL history that a skinny guy with a single-digit number never trotted on the field and sent one off his foot to the other team on 4th down. In fact, Bills punter Chris Mohr and Niners punter Klaus Wilmsmeyer were the only players on the active roster to not enter the game at all.

Here's a copy of Page 1 of the official NFL Gamebook for that contest (obviously not logged onto a 21st century computer). The talent on the field that day was quite amazing, as you can read:




Here are the individual and team stats for that game.

That brings us to this week. Twenty years later. A lot has changed. The 49ers – well, who really cares about them? This is a blog about the Bills. So….. – the Bills have used their punter, Brian Moorman, a lot more than they'd like over the past several years. In fact, Moorman is now 33rd in all-time number of punts and 5th among active punters with a total of 849. When it comes to the number of punts in a given season, he's finished in the top-8 four times in his career. Those aren't numbers any team wants to see at the end of a season. Of course using the punter less doesn't guarantee automatic success. Moorman punted only twice last week. But the first one of the season was returned 68 yards the other way for a Jets touchdown.

I like Brian Moorman. He's been a loyal and good Buffalo Bill for a long time. But, quite frankly, I'm sick and tired of seing him. The less Moorman the better the Bills. Let's hope he has a nice, comfy seat on the Bills bench Sunday, unless he's crouching down and holding the long snap for Rian Lindell extra-points. More on that game in a moment. But first……

3 other "Must-See" NFL Games of Week 2….

--New York Jets at Pittsburgh: The Steelers certainly can't afford to go 0-2 to start the season. Especially with two losses against fellow AFC teams. The Jets looked terrific last week as all of you reading this know too well. But to go into Heinz Field and beat the Steelers in their home opener when Mike Tomlin's team is coming in mad is quite a task. The Steelers have won their past nine home openers (2nd only to New England's 10).

--Lions at 49ers: "The Handshake Bowl!" Even if this game wasn't going to be really fun to watch because of the contrasting styles of offense and the fact both teams are looking to go 2-0, this one thing makes it totally worth it, even if we have to wait three hours from kickoff for it to happen:



--Denver at Atlanta: I was mocked by some readers when I picked the Broncos to represent the AFC in Super Bowl XLVII. Well, they certainly looked the part last week against the Steelers. The Falcons looked pretty darn good themselves. Peyton Manning has been terrific on Monday Night Football throughout his career with an 11-3 overall record as a starter. But there's something about playing AFC teams at home Matt Ryan loves. He's 7-1 in those games with an incredible 16-to-2 TD/Interception ratio. Both teams want to prove to a national audience they are legit contenders.

Speaking of Monday night......come out to The Sidebar on Hertel Avenue this Monday night to see the taping of the TV show "Out of Bounds." Bills linebacker Arthur Moats and I are the co-hosts. Rookie linebacker Nigel Bradham will be there as our guest this week, too. The players will stay after the show to take pictures and sign autographs. The taping starts at 7pm. Hope to see you there! (OK, shamless plug over....but this is a fun time, hope you can come and say hello!)


Head-to-body ratio is actual size



NFL Fact Hopefully Not Only I Find Interesting:

With a win Sunday, RG3 will become only the fifth rookie quarterback in NFL history to start and win his team's first two games of the season. If he does, he joins a list that includes John Elway (1983), Joe Flacco (2008), Mark Sanchez (2009), and believe it or not…..Ryan Leaf (1998, his first game and win vs. the Bills).

3 College Games Worth Your Time:

--Notre Dame at Michigan State: This has always been a nice little rivalry. But it's becoming a much bigger one with big implications for one or both teams the last few years. This year is no different. Both teams 2-0. Both ranked. Plus, they've been known for some wild games in recent years. Since 2005, four contests have been decided by exactly three points. Total points in those games: 145-145.

--Florida at Tennessee: Finally this game is meaningful again. It's been a few years. This is the first time they've played while both are ranked since 2007. That's really Tennessee's fault. The Vols have finished over .500 just once in the last four seasons. But they're 2-0 this season and 9th in the nation in passing offense. The Gators are also 2-0 but haven't played very good football overall. If they play the way they have the first two weeks, this game could very well signify a change in the pecking order of the SEC East. OR….it could simply wind up being a reminder of who's who.

--USC at Stanford: A lot of Bills fans want to see Matt Barkley, the consensus top QB in next April's draft. That's fine, but A) the Bills aren't going to be in a position to draft Barkley is he does go as high as most predict as of right now; B) I watched Barkley play last week against Syracuse and he didn't impress me much. His stats were terrific. But most of the game all he really did was throw screen passes and fades to wide receivers who will also be playing on Sundays. I want to see him "wow" me. Watch him yourself and judge what you think. Meanwhile, Stanford hasn't skipped a beat after losing Andrew Luck to the NFL. The Cardinal are 2-0 just like the Trojans. So, this is also a big Pac-12 opener for both teams.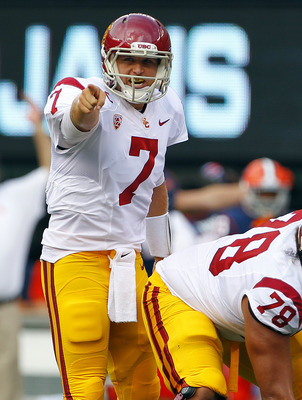 NFL Fact Hopefully Not Only I Find Interesting Part II:

--A total of 230 colleges were represented on NFL rosters on Week One. Here's a breakdown of the schools with the most players:

1. USC (44 players on NFL rosters Week One)
2. Miami (37)
3. LSU (36)
4. Georgia (35)
Ohio State (35)
Texas (35)
7. Florida (30)
8. Alabama (26)
9. California (25)
Iowa (25)
Michigan (25)

By the way, the only school with more than one punter on an NFL roster last week – Tennessee with two. One of them is Dustin Colquitt who plays for the Kansas City Chiefs. See how I tied all that back to……

Kansas City Chiefs at Buffalo Bills:

Home openers are always special at Ralph Wilson Stadium. And often very memorable. Last year the Bills had a huge 2nd half comeback to beat the Raiders. The often-mentioned-in-this-blog Brian Moorman threw a 19-yard touchdown pass to defensive end Ryan Denney in a win against Seattle in 2008. Of course, the goalposts came down in a 17-7 win over Miami in 1980.

But not all the home opener memories have been good ones. There was the tragic Kevin Everett incident in 2007. The Chad Morton 96-yard kick return to start overtime and loss to the Jets in 2002. And two years later, Jacksonville's Ernest Wilford caught a 7-yard TD pass from Byron Leftwich on the very last play of the game to beat the Bills, 13-10.

(Here's where I also remind you that play ultimately cost the Bills a playoff spot because they couldn't beat the Steelers backups at home the last game of the regular season….AND remind you the catch would not have even counted today because of a rule change. Wilford did not get two feet down inbounds, but after replay review was ruled that he would have if he hadn't been "forced out" by a Bills defender. That rule has since changed. Even if forced out, a receiver now must still get two feet down inbounds).

The Bills put up 41 points on KC last year in THEIR home opener. The Chiefs would definitely love to pay them back.

Speaking of pay-backs, a lot of Chiefs fans are hoping their team goes after Stevie Johnson for what they felt was a cheap shot of a block against safety Eric Berry last year. Berry suffered a season-ending injury as a result of the block. (do a twitter search of what some of the KC fans are tweeting to Stevie about this. I'd prefer not to post any of it here for what you'll read as obvious reasons).

With perfect weather and little wind called for Sunday in Orchard Park, I expect some offensive fireworks in this one. There's a lot of talent on that side of the ball for both teams, and both coaches will have plenty of opportunities to get them involved. Jamaal Charles, Dwayne Bowe, and Dexter McCluster for the Chiefs. Stevie Johnson, CJ Spiller, and Brian Moorman (had to) for the Bills.


Good Brian Moorman.......
......Baaaaad Brian Moorman


The game could very well come down to which quarterback makes the fewest mistakes. Both Ryan Fitzpatrick and Chiefs QB Matt Cassel turned the ball over three times last week. Cassel was excellent in the first half against the Atlanta Falcons, then fell apart in the second. Fitz was exactly the opposite. He had an awful first half against the Jets, then regrouped after the opening drive of the second. So, no matter what happens in the first thirty minutes of this one, expect a lot of adjustments and don't be surprised if the second half looks like an entirely different game.

Maybe even another really memorable one. Bills 31-28.

Follow me on twitter: @SalSports