Anyone who's watched the Bills play this season can't realistically expect the team to make the playoffs considering how they've played.

However, based solely on record, and on actual history, as tough as the task seems for this team to climb back into it and make the playoffs, it's not impossible. In fact, even very recent history suggests it's more do-able than most may realize. Here are the stats, right from the NFL:

Since 2000, 29 teams have reached the halfway point of the season with a .500 or below winning percentage and made the playoffs, including at least one in every season.

Over the past five seasons, 12 teams started 4-4 or worse and rebounded to qualify for the playoffs. Seven of those teams won at least one playoff game.

The teams in the past five seasons (2007-2011) that started the season at .500 or below through eight games and earned a playoff berth:



YEAR
TEAM
RECORD
(8 GAMES)
FINAL
RECORD
PLAYOFF RESULTS
2007
San Diego
4-4
11-5
Advanced to AFC Championship
2007
Seattle
4-4
10-6
Advanced to Divisional
2007
Tampa Bay
4-4
9-7
Advanced to Wild Card
2008
Indianapolis
4-4
12-4
Advanced to Wild Card
2008
Miami
4-4
11-5
Advanced to Wild Card
2008
Minnesota
4-4
10-6
Advanced to Wild Card
2008
San Diego
3-5
8-8
Advanced to Divisional
2009
Green Bay
4-4
11-5
Advanced to Wild Card
2009
N.Y. Jets
4-4
9-7
Advanced to AFC Championship
2009
Baltimore
4-4
9-7
Advanced to Divisional
2010
Seattle
4-4
7-9
Advanced to Divisional
2011

Denver

3-5

8-8

Advanced to Divisional

Of course, only two teams on this list were 3-5 like the Bills, while the others were 4-4. The Bills have a major task in front of them if they are to try and have their name etched on this list when we look at it in future years.

One thing that will benefit them is the way the schedule sets up. They have five of their remaining eight games at home. Well, actually four in Orchard Park and one in Toronto. But you get the point. Even though Miami and Seattle are better teams than we thought they'd be going into the season, the goal has to be to win those five games to get to eight wins, and try to grab another on the road somewhere along the way to get to nine.

With division and conference games as the first tiebreakers, obviously the best time and place to try and grab one of those road games would be Sunday at New England.

More on that game below, but first…..

3 Other Must-See NFL Games For Week 10:

Texans at Bears: Not only the best matchup of the weekend, but one of the best of the season so far. Two 7-1 teams. Both are looking to get home-field advantage throughout their conference playoffs. Both teams have the ability to beat you different ways on offense. The Texans are #2 in the league scoring points; the Bears are #3. But, of course, it's both defenses that have made the most headlines this season. Chicago has given up the 2nd fewest points; Houston the 4th fewest. The difference may come down to special teams, where the Bears are excellent but the Texans aren't. Also, this game is a huge litmus test for the AFC. So far this season, the NFC has dominated in inter-conference games, going 23-13 against the AFC.

Chargers at Buccaneers: Bucs rookie running back Doug Martin may be good enough reason to watch this one. After being held to less than 100 yards his first six games, Martin has run for an incredible 386 yards over the last two games, including his 251 yard performance last Sunday at Oakland. The Chargers got back on track last week (granted that was against Kansas City) and maybe that breathed just a little bit of life back in them and their embattled coach, Norv Turner. But San Diego's schedule is a rough one coming up. They need this game because after it, they are at Denver, have Baltimore and then Cincinnati at home, and then travel to Pittsburgh. The Bolts are 5-0 all-time at Tampa.



Last stand for Romo or Vick? Both of them?

Cowboys at Eagles: "The Super Bowl of Disappointment." Which of these teams has been more disappointing this season? Which one will continue their free-fall? Will either of their coaches survive until 2013? What will the Eagles do with Michael Vick? Will Jerry Jones ever understand he's not a general manager? A lot of questions to be answered with both teams this week and over the next several months. This game will be interesting to see how they react under true desperation mode considering both aren't just already there, but far beyond at this point. Each had such high expectations, but whoever loses here will go to 3-6 and be in serious danger of dropping not only 3.5 games back of the Giants in the NFC East, but also over 2 games behind in the wild card race.


Come meet TJ Graham and Arthur Moats…..(oh. and Me!)

We'll be taping this week's Out of Bounds TV show at JP Bullfeathers, 1010 Elmwood Avenue in the heart of the Elmwood Village in Buffalo. Bills LB Arthur Moats is my co-host and this week's guest is rookie wide receiver TJ Graham. The show tapes Monday night at 7pm and afterward, both Arthur and TJ will stick around to take pictures with and sign autographs for fans. Hope to see you there Monday night!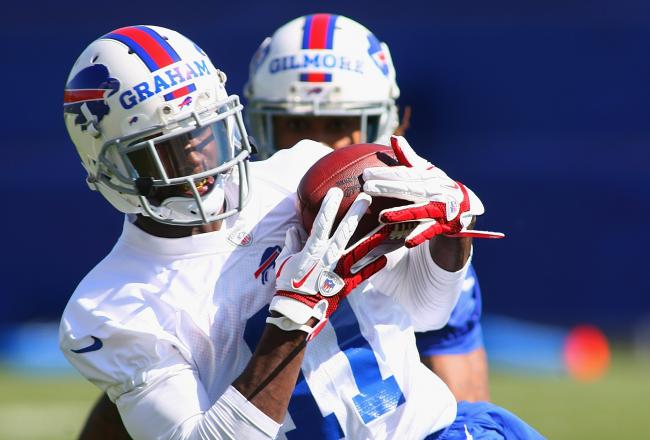 He signs autographs with those hands, too!


NFL Fact Hopefully Not Only I Find Interesting:

With a victory Sunday over New Orleans, the Falcons would become the ninth team since realignment in 2002 to begin a season 9-0. Of the eight teams since 2002 to start 9-0, four went on to play in the Super Bowl and two (2006 Indianapolis and 2009 New Orleans) won it.


Barking Dogs:

I had a rare losing week in my "3 Dog Saturday" selections on Sports Talk Saturday. Not horrible, but 1-2 last week, which puts me at 17-10 on the season and still very good overall. I plan on making up for the poor performance. You can hear the picks every Saturday during the 1pm hour of the show.


3 College Games Worth Your Time:

Texas A&M at Alabama: Alabama really escaped Baton Rouge last weekend. LSU beat them up and down the field the whole game and had them beat……until the last 1:30 or so. But that's what good teams do. And Alabama's not only been a good team, they've been a great team. They're 57-6 since 2008! They're 9-0 this season and looking for their second straight national title and third in the past four years. You know they have great talent and a great college football coach in Nick Saban. But what about A&M? The Aggies have the 5th ranked offense in college football. They have a QB with a nickname, so that always means something, right? Let's be honest – they probably have no shot to beat the Tide, BUT coming off that kind of emotional win over LSU, 'Bama could very well have some sort of letdown opening the door just a little bit for the possibility of a huge upset.

Louisville at Syracuse: Yeah. I'm going a little biased here as a Syracuse guy myself. But this should not only be a very good game, it's also a chance for you to check out SU quarterback Ryan Nassib. I don't think Nassib is a first-round draft pick next April, but I do think he can play at the next level and should be able to fight for a starting job at some point. He plays in a very NFL-like offense (head coach Doug Marrone worked with Sean Payton in New Orleans), is big, and has a very strong arm. It's also the last game for these seniors (including Nassib) in the Carrier Dome. That means, as opposed to most games played there the last several years, the Dome will be rocking and the atmosphere will actually represent a big football game instead of a funeral. And that's actually a pretty cool thing to see and hear when it happens. Of course adding to all of that is the fact the Orange's opponent – Louisville – is 9-0 and looking to get to a BCS bowl game.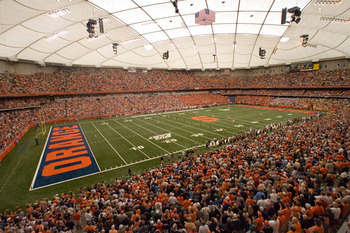 This is how the Carrier Dome USED to look EVERY game. It may again Saturday.

Oregon State at Stanford: This is essentially an elimination game in the Pac-12 North. Because as much as division leader Oregon has looked like, well, Oregon, the Ducks final two games are against both these teams. And right now, both sit with only one loss. That means if the winner also can find a way to beat Oregon when they meet later this month, BOOM! They'll take the division title and head to the conference championship game. Both teams are downright nasty when it comes to stopping the run. The Beavers have allowed only 92 yards per game on the ground. The Cardinal have given up…..are you ready for it?......55.8 yards a game on the ground! That's the best throughout college football. Even more amazing may be that they've allowed a total of minus-34 yards rushing over the last three games! Stanford has won three of the last four meetings.


On Location:

I'll be broadcasting this weekend's Sports Talk Saturday live from UB's Alumni Arena as the Bulls get set to tip off their 2012 season at home against Princeton. Come on out to talk sports, be a part of the excitement of the students and fans before the game, say hello.



Come see the Bulls play AND be a part of Sports Talk Saturday!


NFL Fact Hopefully Not Only I Find Interesting Part II:

With a victory Sunday over New Orleans, the Falcons would become the ninth team since realignment in 2002 to begin a season 9-0. Of the eight teams since 2002 to start 9-0, four went on to play in the Super Bowl and two (2006 Indianapolis and 2009 New Orleans) won it.


Bills at Patriots:

I really felt going into the last New England game the Bills matched up better with the Pats than they have in quite a while, including last season when they actually beat New England for the first time in sixteen games. And that looked to be true. Until the wheels fell off in the second half and the Pats rolled up 45 2nd half points on their way to a 52-28 beatdown.

Most fans know the Bills play better against New England in Foxborough than they do in Orchard Park. Of the last seven games there, two have been blowouts and the other five have been decided by 8, 1, 12, 2, and 5 points. Of course, all with the Patriots coming out on top.

In that September game in Buffalo, both Fred Jackson and CJ Spiller were coming off injuries. And it showed. Neither was very effective running the football. Both fumbled, as well.



Wait. These guys actually know each other?!?!

Last week, the same was the case. But it wasn't due to injuries. It was because Chan Gailey didn't give them the ball enough to make an impact. Gailey's been asked about that a lot this week. I expect him to make much more of an effort to get CJ and Fred both involved, but especially Spiller.

The problem is, Spiller and Jackson can't stop Tom Brady. They can't cover Gronk or Welker, either. But the Bills defense hasn't been able to do any of that, either. It's in New England, so closer. But not enough. It never is against this team. Patriots 28-20.

--Sal Capaccio

Follow me on twitter: @SalSports