INDIANAPOLIS (WGR 550) -- As the 2013 NFL Scouting Combine kicks in to it's second day of media availability, the stories will all surround the skill players this year's draft will have to offer.

That's right. You want to hear from Matt Barkley, Ryan Nassib, Tyler Wilson, Geno Smith, Mike Glennon and more? Today is the day.

Follow along with me throughout the morning, afternoon and evening for all the latest from Indianapolis!

5:17 pm: That's a wrap for Day 2 at the NFL Combine. Be sure to follow along on Saturday because it will be the first time Manti Te'o addresses the media at a press conference since the girlfriend hoax information was made public. It should be an interesting day, and will likely be the biggest press conference I've seen in my five years at the Combine. Talk to you tomorrow!

4:17 pm: Well the top 10 quarterbacks have all rolled through the media room at Lucas Oil Stadium today. From my perspective, Tyler Wilson was the winner far and away. He just seems to understand what it takes to be a successful quarterback. The big question on him, though, is whether or not 2012 was merely a fluke or if that's the type of quarterback he'll always be. That's the question teams will have to answer. There's no doubt that he's impressive though.

Not to mention, the Bills appear to be interested, too. After meeting with Buffalo at the Senior Bowl, Wilson will be meeting with the Bills on Friday night as well according to the team's official website. Be on the lookout tomorrow morning to WGR550.com for an extended look on Wilson and what he brings to the table.

3:28 pm: How about this for a 2013 NFL Draft fun fact?

Potential top-10 pick, and perhaps a target for the Bills at 8th overall, Tennessee WR Cordarrelle Patterson is from Rock Hill, SC. It just so happens that the Bills' 2012 first-round pick, Stephon Gilmore, hails from the saem area. Not even that, the two carry a working relationship.

"Oh man, I know him," Patterson said with a laugh and a smile. "I talked to him like a couple of weeks ago, as a matter of fact. Yeah I played against him in high school. We communicate. He's telling me to just keep my head straight and he just told me good luck."

Did Gilmore give him a heads up about what the combine, in all its glory, might be like?

"He didn't prepare me for all this. He gave me a little clue, but he didn't tell me all this happened."

3:10 pm: Just heard from NC State QB Mike Glennon. The lanky quarterback measured in at 6-foot-7 and 225-pounds. He said he knows he has to put on weight and that he thinks it will come as he gets older. So I asked if he'd been trying. He replied that he had been, but it's pretty tough for someone with his frame. As an ectomorph myself, I can feel his pain.

Now for the other information you're probably searching for, Glennon said he hasn't met with the Bills just yet. He did say, however, that he was expecting to. He's thought to be right in that group of six or seven quarterbacks that people have ranked in many different ways. There is no consensus top signal-caller at this point in time.

2:27 pm: It's been a hectic 90 minutes, with a lot of quarterbacks, wide receivers and tight ends coming through the media room. One player that is logically linked to the Bills due to their humongous Syracuse contingent on their coaching staff is quarterback Ryan Nassib. Hear the entire interview below:


12:57 pm: Doug Marrone just got done speaking with the national media as well. You can hear the audio here:


12:22 pm: Former Bills safety George Wilson has apparently found a home. He posted this on Twitter just a short while ago: Wilson is the first of the recent trio of cuts by the Bills to hook on elsewhere.

12:19 pm: Also wanted to pass along Doug Marrone's Q&A with the local media. He's scheduled to speak with the national media at 12:30 pm.


12:12 pm: USC QB Matt Barkley just met with the media. He spoke about his time at USC, questions about his arm strength, his current injury status with his shoulder and more.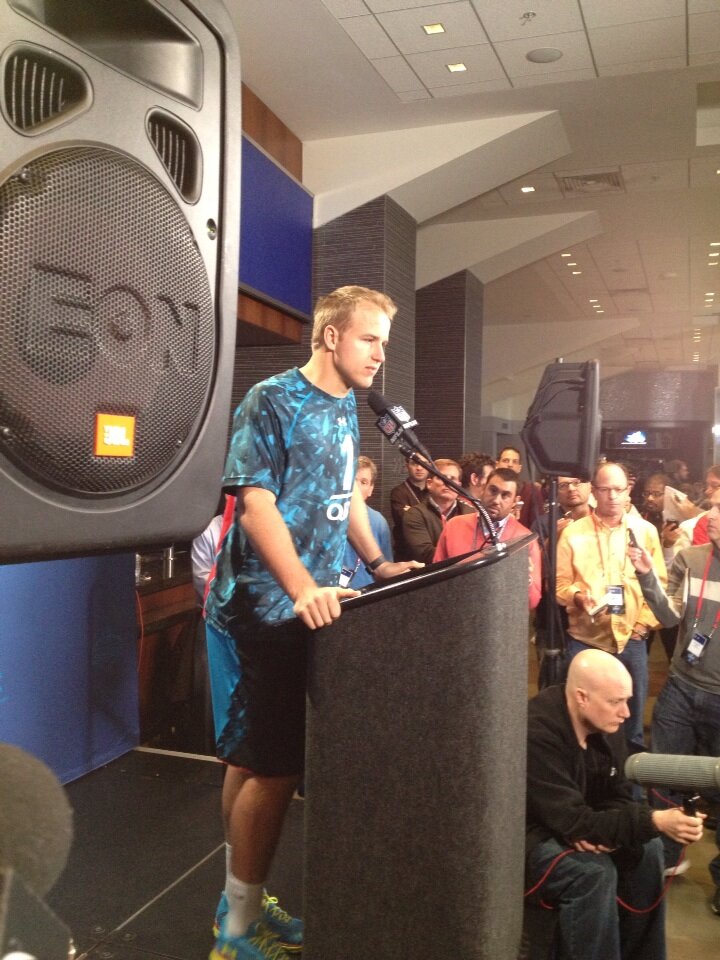 You can hear his entire interview below.




11:29 am: Wanted to pass this along real quickly. I was on with The Howard Simon Show this morning from Lucas Oil Stadium. We talked a lot about the quarterback, cornerback and tight end positions. Click play below to listen!


11:24 am: Just got done speaking with Bills HC Doug Marrone. He didn't offer much about personnel and the roster, saying he wanted to meet the players first and start working with them. More soon.

10:43 am: One player that may garner some consideration by the Bills at eighth overall is Tennessee WR Cordarrelle Patterson. Although only spending one season at Tennessee, Patterson is perhaps the most talented wide receiver in the draft and carries the "playmaker" billing by all that have watched him. Today in Indianapolis, his size backed up his game. Patterson was 6'17/8" and weighed in at 216 pounds. If he can run in the low 4.4s on Sunday, he could firm up being the top wideout selected.

10:22 am: There were a lot of little nuggets to take away from Buddy Nix's conversation with the media on Thursday. I've written about his thoughts about the quarterbacks, and some interesting quotes about Leodis McKelvin and Aaron Williams. However, let's stick to the tight end position for now for the purpose of this blog. Nix expressed concern when asked if Scott Chandler would be ready to start the season due to a torn ACL. That has made the Bills GM at least publicly consider if they should bring in another player at that position.

On the whole, tight ends coming out of college in recent years haven't been able to block all that well. The Bills experienced that first hand when they drafted Shawn Nelson. So I asked him if there was a player this year that could provide the blocking aspect they need. His response?

"We've got one that can block."

He's referring, of course, to Lee Smith. That interchange jumps out at me, though, because it could mean the Bills may be targeting one of the many athletic, pass-catching tight ends at some point in the draft. Certainly not at eighth overall, but the position could warrant a second, third or fourth round pick with players like Eifert, Ertz, Escobar, McDonald and Reed looking the part as potential weapons for offenses. It's worth monitoring.

9:27 am: The tight ends measured in on Thursday and put even more intrigue on the position. This is a good grouping of tight ends in 2013, and ones that can make plays down the field. Here are some of the notables and how they measured:


| | | | |
| --- | --- | --- | --- |
| Name | School | Height | Weight |
| Tyler Eifert | Notre Dame | 6'51/2" | 250 |
| Tyler Ertz | Stanford | 6'4" | 249 |
| Gavin Escobar | San Diego State | 6'57/8" | 254 |
| Nick Kasa | Colorado | 6'6" | 269 |
| Travis Kelce | Cincinnati | 6'47/8" | 255 |
| Vance McDonald | Rice | 6'4" | 267 |
| Jordan Reed | Florida | 6'21/2" | 236 |
| Mychal Rivera | Tennessee | 6'3" | 242 |
| Dion Sims | Michigan State | 6'47/8" | 262 |
| Levine Toilolo | Stanford | 6'81/8" | 260 |


9:05 am: All settled in for Day Two. I've already laid out that the quarterbacks, running backs and wide receivers are talking today. In addition, Buffalo Bills head coach Doug Marrone will also be speaking both to the national media and the local media this afternoon. At this point it's tenatively scheduled for 12:30 pm.