INDIANAPOLIS (WGR 550) -- Draft season is officially upon us.

The entire National Football League universe has settled into Indianapolis and for the next week the focus is not only on the draft prospects that make up the annual NFL Scouting Combine, but also the impending free agents and their representation attempting to gauge their worth.

As is always the case, it's sure to be a fast-paced and news heavy week, even on the first day.

Keep checking throughout the day here on on Twitter (@JoeBuscaglia) for live updates. You'll see tidbits, audio, weigh-in charts and a little bit more throughout Thursday.

5:00 - Day 1 is done
Media availability has ended for the day here at Lucas Oil Stadium. The only big name that didn't come through to the media room was Auburn OT Greg Robinson, who could very well be the first tackle selected in this draft. He'll likely be through on Friday at some point, considering he's a likely top-10 selection. The blog continues tomorrow with Bills GM Doug Whaley speaking with local reporters around noon. Check back for that and much more right here at WGR550.com!

4:28 - A tight end in Gronkowskian form?
- Teams that have a great tight end feature them prominently in their offense, while the rest of the NFL attempts to desperately find that player. One player that could be a major "winner" at the NFL Combine is Notre Dame TE Troy Niklas. Measuring in at 6-foot-6 and 270 pounds Niklas towered over the podium in place, standing in the same spot New England Patriots tight end Rob Gronkowski did just four years ago. Gronkowski measured in at 6-foot-6, 265 pounds, and ended up running a 4.65 40-yard dash. If Niklas gets close to that level, he could push to be off the board way earlier than anyone initially thought. Here's a photo of Niklas from earlier today: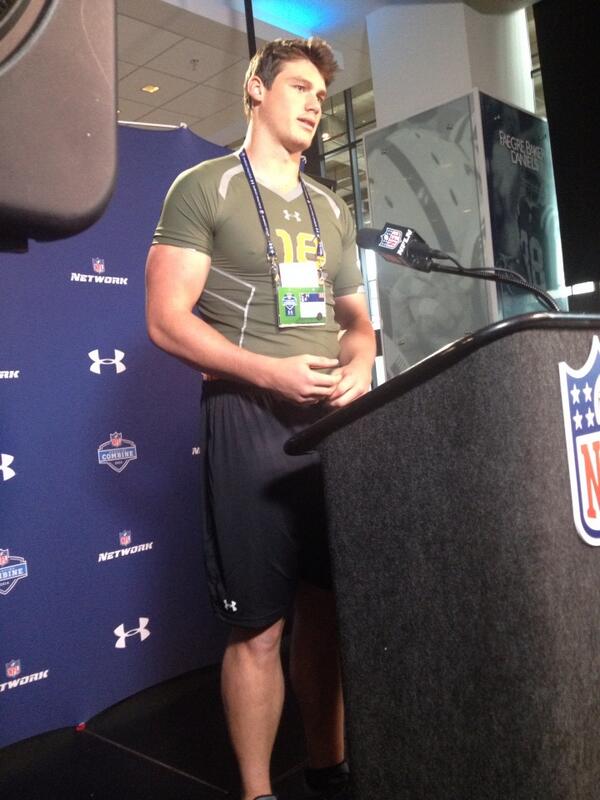 3:13 - Offensive tackle frenzy
- The who's who of offensive linemen just rolled through the media room with the exception of Auburn's Greg Robinson. Texas A&M's Jake Matthews came off as very polished much in the way he showed as a prospect on film, Michigan's Taylor Lewan is a bit more charismatic while Notre Dame's Zack Martin's sole purpose was to tell people that he wanted to prove the doubters wrong about his arm size affecting his ability to play left tackle in the NFL. Audio of the three speaking below:




2:50 - Ebron oozes confidence
- With multiple prospects coming through the media room, it's been a hectic past two hours. A trio of potential Bills targets came through during that span, and one of them really stood out. North Carolina tight end Eric Ebron physically looked the part measuring in with the aforementioned 6-foot-4 and 250-pound frame, but what you can't see on tape is that he's got a certain amount of swagger to him. Dripping with confidence that bordered on cockiness, Ebron said he'll run a faster 40-yard dash than his old North Carolina teammate and current Cincinnati running back Giovani Bernard. Ebron said Bernard ran a 4.5, so if he can get in the 4.4's, the tight end could firmly put himself into consideration for a Top 10 pick.

12:34 - Marrone talks with the locals
- As one might imagine, the conversation between Marrone and the local reporters had a lot more information regarding Jairus Byrd, Kevin Kolb, the tight end position and much more. A post with quotes will be coming soon.

11:34 - Marrone Part One
- The Bills head coach went through his press conference with the entire media contingent here in Indianapolis. The items addressed are mostly dealing with other angles from reporters that cover different teams. Most the Bills related questions will be discussed when he speaks with the local media in about an hour. Stay tuned. But for now, here's the audio from his first appearance:


10:43 - The prototypical left tackle
- If the Bills decide on going with a tackle at ninth overall, they may not be able to get their hands on Auburn OT Greg Robinson.

I heard Greg Robinson passed the eye test at the weigh-ins. 6'5 332

— Daniel Jeremiah (@MoveTheSticks) February 20, 2014
Greg Robinson's arm length- 35 inches.

— Daniel Jeremiah (@MoveTheSticks) February 20, 2014

The longer the arms for a projected left tackle in the NFL, the better. With the amount of speed coming off the edge from pass rushers, teams are looking for the prototypical size and athleticism, along with long arms to reach for defenders and keeping them away from quarterbacks. Robinson is far above average with 35-inch arms. One of the reasons that sold Buddy Nix on drafting Cordy Glenn was because he had 353/4" arms, despite the lingering sentiments that he'd have to move inside to guard. Robinson is battling with Texas A&M offensive tackle Jake Matthews to be the first man taken at the position. Robinson might have the leg up now.

10:28 - Ebron weighs in
- It's not the workout day for the the first group going through the paces at the Combine, but it was a humongous day for the top tight end available. It's the weigh-in day for offensive linemen and tight ends, and North Carolina's Eric Ebron passed the test. Checking in at 6'43/8" and 250 pounds, Ebron beefed up right to the point he needed to, and maybe even catapulted himself into higher consideration in the first round. If he can run well with that new weight (he was listed at 231 by ESPN's Scouts Inc.), Ebron could be on the way up.

10:14 - Philbin takes blame
"I want everybody to know: I'm the one that's responsible for the workplace environment at the Miami Dolphins facility."

Those were the words from head coach Joe Philbin upon reading the Ted Wells report. If you'd like to hear the press conference in its entirety, click play below.


9:40 - Bills speaking schedule
- The Bills will be on display today. Head coach Doug Marrone will address the entire Combine media at the podium at 11:15. He'll also be talking with the local media in attendance in the 12 o clock hour, and general manager Doug Whaley will speak with the local media just a little before noon on Friday. Expect Jairus Byrd to be a hot topic, among many other things throughout the day. I'll be posting nuggets from those conversations as we go along.

9:25 - Welcome to Indy!
-The NFL Combine certainly doesn't ease in with the first morning. Multiple head coaches and executives will be speaking with the media at the podium, and it all starts with a bang as Miami head coach Joe Philbin will address the press for the first time since the Ted Wells report went public. Philbin has been roasted for being unaware of all that went on under his nose, so it's surely to be a charged up press conference.