INDIANAPOLIS (WGR 550) -- Most years with the NFL Combine, the second day of media availability is the most highly anticipated. Through the years it has boasted the top offensive skill position players (quarterbacks, running backs and wide receivers) that the draft has to offer all right there for the media to interview.

Although it be a short second to Michael Sam's press conference on Day 3, Friday is sure to have some interesting moments in store with Johnny Manziel, Sammy Watkins and Blake Bortles all being expected to speak with reporters at some point of the day.

Keep checking back throughout the day for the latest tidbits, photos and audio as the skill players are on display!

3:07 pm - Combine freak of 2014 goes to...
- Here are the specs: 6-foot-5, 240 pounds, 4-percent body fat, and he hopes to run a 4.3 40-yard dash. Who is it?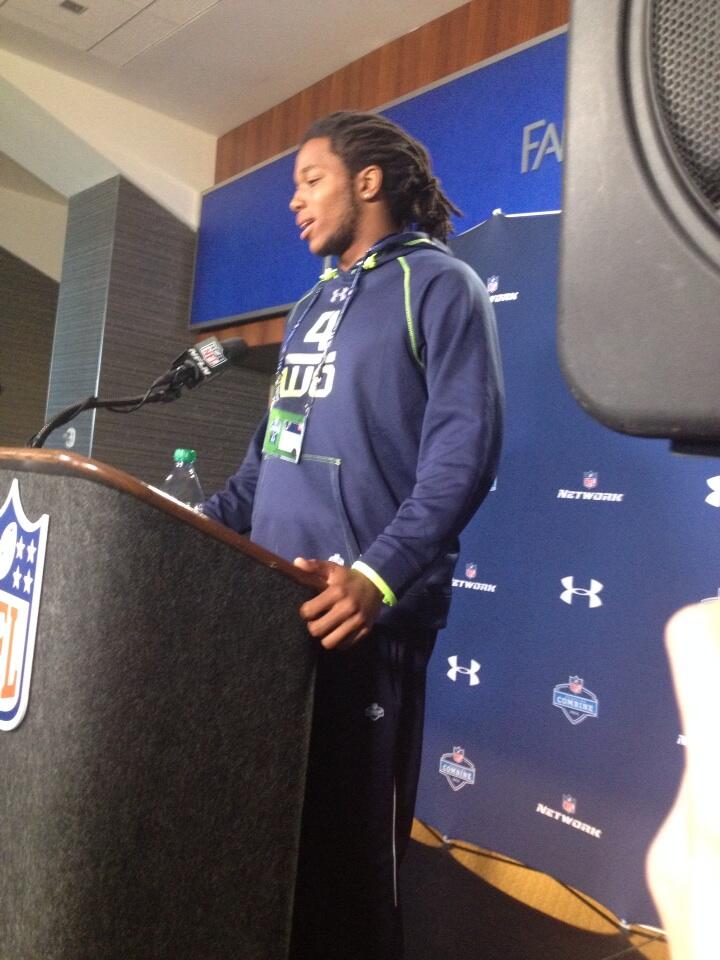 If you don't recognize him, that's Florida State wide receiver Kelvin Benjamin. If he delivers on his promise, which is a big 'if' considering his size, he will be on the radar for some teams earlier than anyone might expect. Players with that type of frame and athleticism do not last long. His biggest proving ground will be during the 'gauntlet' drill, where receivers must run in a straight line and catch pass after pass varying from the left side to his right side with each throw. With his reputation for dropping a pass or two per game at Florida State, that, and not the 40-yard dash could ultimately decide just how early he'll be selected.

From my perspective, he needs to improve on some things and my biggest worry is that he'll be over-drafted and expected to take over as the top wideout on a team too quickly. In my humble opinion, he needs some time to develop and then to be worked into an offense slowly. It won't be unfortunate for his checking account, but running and performing well in Indianapolis could induce that exact scenario. Boom or bust prospect.

1:16 pm - Byrd and Cleveland?
The Bills and Jairus Byrd are set to meet in Indianapolis on Saturday, but here is some further food for thought if the talks don't go well:
Hear the possibility of reunion between #Browns coach Mike Pettine and S Jairus Byrd is real. Bills could complicate with a tag & trade tho

— Ian Rapoport (@RapSheet) February 21, 2014
If the talks do not go well between the Bills and Byrd, I would be shocked if the team does not put the franchise tag on him and allow him to walk for nothing. The intent would be to trade him, because it will likely be clear by that point that Byrd would rather spend his playing career past the 2014 season elsewhere. The Bills won't have an opportunity to franchise tag him after the 2014 season, so this would make a trade much more likely this off-season than last year's when he received the first franchise tag.

12:05 pm - Whaley speaks
- Just got done with Doug Whaley, and there will be many posts coming with some of my interpretations of what he said, but wanted to get the info-packed 11 minutes to you as quickly as possible. Click play below:


10:18 am - EJ is "hungrier" this year
- Appearing on The John Murphy Show on WGR Sports Radio 550, head coach Doug Marrone couldn't hide his excitement for second-year quarterback, and their overall hope for the future, EJ Manuel. What's changed from year one to year two?

"I honestly see someone who's hungrier, who's out to prove more now -- more than ever -- that he's gonna perform at the level that he feels he's capable of performing at. And I'm excited about that." - Doug Marrone

It's good to see Manuel is hungrier and is ready to take the next step, but his work ethic has never been the question mark surrounding him. If he can improve on his intermediate accuracy and give his receivers chances to make plays, he'll be able to develop into a solid starter. As is the case in most places, the overall complexity of the offense can only develop as much as Manuel does as a starter in the NFL. It will be fascinating to track in 2014.

10:08 am - Lyerla attempts to explain himself
- As tight ends go, Oregon's Colt Lyerla has as much talent as anyone in the draft this year. But as off-the-field concerns go, not many have more explaining to do to NFL teams than him. Arrested for cocaine possession and then leaving the team and dropping out of school in October, Lyerla has to explain to teams exactly what happened and how he's learned from it. If they believe him to be genuine, then he could be a third or fourth round pick. If they don't, well, we saw what happened to Da'Rick Rogers in the draft last year. Lyerla spent some time with reporters, listen to his audio below and judge for yourself:


9:37 am - Whaley Day
- Just a day removed from head coach Doug Marrone addressing the local media, Friday is GM Doug Whaley's turn to dish on the hot topics of the off-season. He's scheduled to meet with the media around 11 am.

9:21 am - No surprises with Sammy Watkins
- Clemson wide receiver Sammy Watkins is by far the top prospect available at his position even though his height left a little to be desired by some. When he measured in on Friday, the results came in as expected with Watkins, checking in at 6'03/4" and 211 pounds. Players like Mike Evans and Kelvin Benjamin will be much taller, but Watkins' overall explosiveness will likely blow away the combine when he works out on Sunday.

9:00 am - Johnny Big Hands
- The quarterbacks are going through the paces and getting measured here in Indianapolis, and there were a few interesting results coming away from it. For one, of the top three quarterback prospects (Johnny Manziel, Teddy Bridgewater and Blake Bortles) one had the smallest frame, but yet the biggest hands.

| Name | Height | Weight | Hands |
| --- | --- | --- | --- |
| Johnny Manziel | 5'113/4" | 207 | 97/8" |
| Teddy Bridgewater | 6'21/8" | 214 | 91/4" |
| Blake Bortles | 6'5" | 232 | 93/8" |







So what does it all mean? Well, the Russell Wilson comparisons will only continue for Manziel as he goes along. Wilson, despite measuring in at 5'11" at the NFL Combine was found to have one of the biggest hand sizes of his class (10.25 inches).

Twitter: @JoeBuscaglia